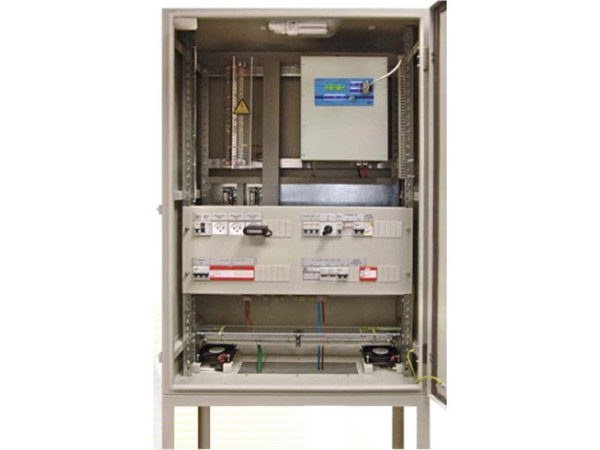 SCP-C. DIGITAL CURRENT RECTIFIERS FOR CATHODIC PROTECTION OF 8 A, 25 A, AND 50 A AT 50 VDC.
---
The SCP-C is designed and built according to the most rigorous standards such as NACE, CE and DNV. SOLCON Industries offers printed current digital rectifiers for cathodic protection systems. The SCP-C includes a wide range of protection and measurement features, thus providing the most optimal solution for continuous monitoring operations.
ADVANCED FEATURES
---
Control micro processor.

Internal switch.

Input for external switch.

Inlet and outlet for protection against atmospheric discharges.

Single-phase (8/25 A) or three-phase (50 A) units.

Current capacities: 8.25 A and 50 A DC (up to three units in parallel for 150 A) all at 50 V DC.

Mode of operation: preset constant voltage, constant current and constant potential (instant shutdown).

GSM communications, configuration control and alerts.

RS485 Modbus.

Satellite communication.

Water irrigation control.

GPS for Time Synchronization.

High resolution current and voltage settings.

Integrated LCD display with voltage, current, energy and potential measurements.

System efficiency: 85% minimum.

Enclosure IP00-65.
ALARMS
---
Input voltage fault.

Output current error.

Output voltage error.

Reference power error.

Low voltage of backup batteries.

High cabinet temperature.
PROTECTIVE FEATURES
---
Over current at the output.

Phase loss (power failure).

Input side overvoltage (protected against lightning).

Output side over voltage (voltage induced by external sources.

Low voltage of backup batteries.

High cabinet temperature.
RMU – REMOTE MONITORING UNIT
---
Voltage, amperage and potential measurements.

RS485 with Modbus communication protocol.

GSM communication.

Irrigation control.

Time-synchronized switch control via GPS.

Optional external switch.

Low voltage and no current alarm.
APPLICATIONS
---
Pipes (water, drainage, gas, oil, among others).

Ship hulls.

Bases of a storage tank.

Water circulation systems.

Pier and port structures.

Storage tanks (fuel, oil and water).

Steel plate, tubular and foundation pilings.

Offshore platforms, floating and underwater structures.