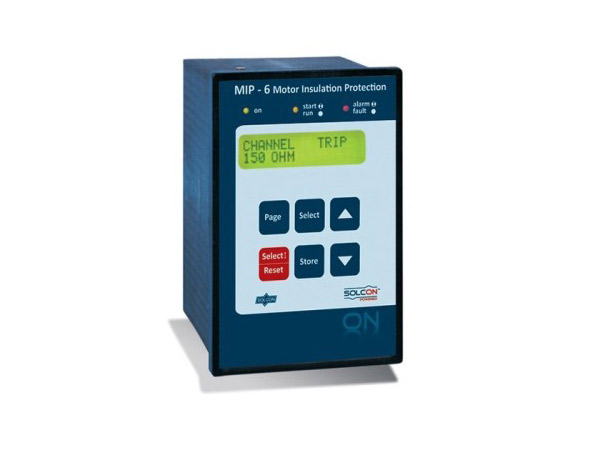 MIP-6. LOW AND MEDIUM VOLTAGE MOTOR INSULATION PROTECTION RELAY.
---
The MIP-6 controls the level of deterioration in the insulation of low and medium voltage motors. It measures the insulation resistance of the motor and indicates the current and average maximum and minimum values ​​in a defined period of time.
TWO TYPES AVAILABLE
---
Low voltage.

Medium voltage with additional resistance box (medium voltage motors up to 15 kV).
ADVANCED FEATURES
---
Control of deterioration of the insulation of low / medium voltage motors.

Indication of current and average insulation resistance on LCD.

Control while motor is de-energized.

Programmable parameters.

Microprocessor-based technology.

Adjustable alarm / trip in the range of 0.1 to 60 MO.

Uses up to 48 VDC test voltage for increased safety.

Illuminated LCD indicator with two lines of 16 characters each.

Six keys for easy programming.

Three LEDs for simple status indication.

Monitoring of deterioration by storing the history with date and time.

Prevention of the modification of unauthorized parameters.

Four 8 A 250 V programmable C / O relays.

0 / 4-20 mA analog output for remote reading (optional).

Modbus communication.

Control voltage: 85-230 VDC / AC (50/60 Hz).

Operating temperature range from 0º C to 50º C and optional from -10º C to + 60º C.